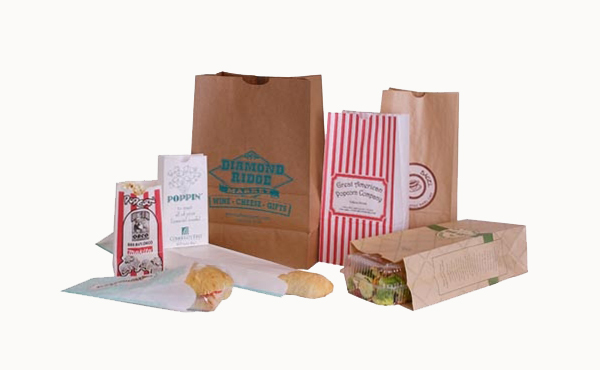 In today's market, a paper bag has become a fashion and stature symbol, due to the amount of time and effort brands spend designing an appealing paper bag for their merchandise. With attractive paper bags that promote a company's brand, customers are offering a free form of advertising and endorsement.
Paper bags also provide many eco-friendly benefits to the people who use them. They can be looked after and reused over and over again. They are both recyclable and biodegradable. Made from renewable natural resources, paper bags can be used over and over again and can be transported to a paper mill to be remade into new paper. In fact, paper bags require less to recycle than plastic bags. Paper bags are also biodegradable, posing less of a threat to the industry and wildlife.

By choosing high-quality paper bags for your coffee, tea, snacks, nuts, cookies, candy and spices, you add a professional draw that consumers will enjoy and appreciate. Not to mention, you can add your own custom branding to any paper bag to promote your business. With its professional quality and aesthetic appeal, you are sure to impress your customers and make them happy.

Coffee
Paper sacks are the perfect container for freshly ground coffee for a variety of reasons. If your establishment offers delicious, fresh ground coffee or coffee beans, our specially created tin tie paper bags are the perfect solution for creating a custom branded paper bag for your product. You can choose whether you want your coffee paper bags to have a window, or a fiberglass or Polypropylene liner to ensure freshness.
Now your customers can carry your signature coffee blends home in their own custom coffee paper bags. In addition to a sealing liner, in addition to a tin tie closure, these paper bags make shutting and sealing a cinch.
Tea
Our tin tie paper bags are perfect to keep your tea fresh. For those fresh tea lovers, it is of utmost importance to keep your tea fresh and crisp without losing any of its potency. Not only do these paper bags keep your product fresh, but they are available in a variety of sizes and can be easily customized to depict your brand name.
For the environmentally conscious tea enthusiast, we also provide an eco-friendly option for your tea bagging needs. Our eco-friendly bags are made from 100% recycled paper and feature a biodegradable poly lactic acid (PLA) lining that is easy to recycle and poses no risk to the environment.
Snack Foods and Nuts
We offer a variety of paper bag sizes for almost any use, including snack foods and nuts. You can now rest assured that your customers can choose to take home some of your specialty snacks and nuts in custom-branded paper bags without worrying about them losing their flavor or freshness. Snacks and nuts are notorious for losing their fresh appeal and occasionally even taking on the flavor of the packaging, with our specially lined paper bags your items will retain their flavor. You can also choose paper snack bags with small windows so that your food items can be seen without being opened.
Cookies and Candies
Your unique food items deserve special treatment, and packaging them in paper cookie and candy bags will lock in their fresh flavor and aroma. Our paper cookie and candy bags are a great solution, allowing your customers to have a reusable and resealable bag that features a metal tag for closure and a paper closure for resealing. In addition to the lining, the top of the tinsel locks in air and keeps your goods safe from the elements. They are the perfect solution for peddling your fresh candy and cookie products, or even just giving away some homemade treats to your family and friends.
Fragrances/ Spices
Some of the best uses for these high-quality paper bags are for sugar, salt, flour and spices. These foods need well-sealed containers to lock in freshness and deter pests. Spices are a particularly volatile thing when it comes to retaining their flavor profile. Improper packaging can cause spices to lose their strength and flavor, or worse, carry the flavor of their packaging. With paper spice bags specifically designed to seal and protect your goods, You can store your spice items with confidence. Whether you're selling your own professional grade fresh spices or simply looking for a better way to reorganize your kitchen, our paper spice bags are the right choice.
As Kolysen Packaging is looking for an eco-friendly, efficient packaging for your coffee, tea or other edible products that will increase overall value and customer appeal, choose paper bags with special properties that seal in freshness and give your brand an aesthetically pleasing appearance. When your product is properly packaged, you are improving the quality of it which will help market and promote your brand to your target market.