No matter what kind of food it is, it needs to be properly packaged to maintain freshness and ensure safe handling. Knowing which type of food wrapping paper,greaseproof paper, aluminum foil or wax paper is used for your food is crucial to deliver a high-quality product to your customers. Therefore, we will introduce to you a wrapping paper suitable for hamburgers, burger aluminum foil paper. Burger aluminum foil paper is formed by a combination of aluminum foil and paper. It is different from other greaseproof papers on the market because aluminum foil has good thermal conductivity and plasticity so that hamburgers and other foods wrapped in this packaging paper can play a role in heat preservation and folding performance. Burger aluminum foil paper has different embossing patterns, and the back can be expressed as a honeycomb pattern such as hexagonal, square, wavy, etc. It is heat-insulating and oil-proof and can be used for the hamburger and hot dog food packaging. Our products can be customized according to customer needs, and you can send us your design to print on the surface of the aluminum foil. Moreover, our existing samples can be sent to you for testing after the quotation.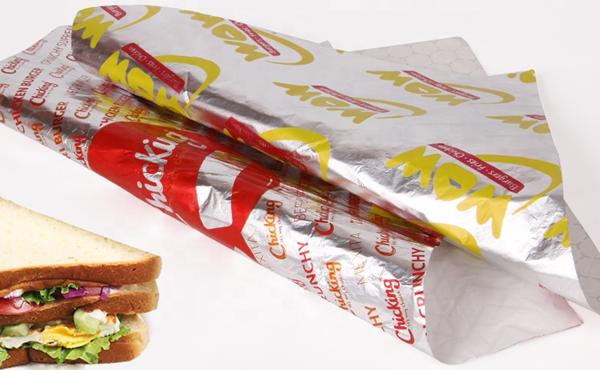 Here are some features of the product followed:

1.Aluminum foil paper composite material
Burger aluminum foil paper adopts a composite structure of aluminum foil and paper, which is clean and hygienic.
2.Strong sealing, good shading, good heat preservation effect
Burger aluminum foil paper can isolate the wrapped food from outside light, humidity and air, and due to the characteristics of aluminum foil, burger aluminum foil paper has a good thermal insulation effect.
3.Can be customized as customers' needs
The regular size of our company's burger aluminum foil paper is 35*40cm, and we can also customize it according to the size and printing patterns that customers want.
Kolysen Packaging specialized in producing food packaging products for more years, such as greaseproof paper, aluminum foil, popcorn bag and so on. Feel free to contact us when you have any needs.