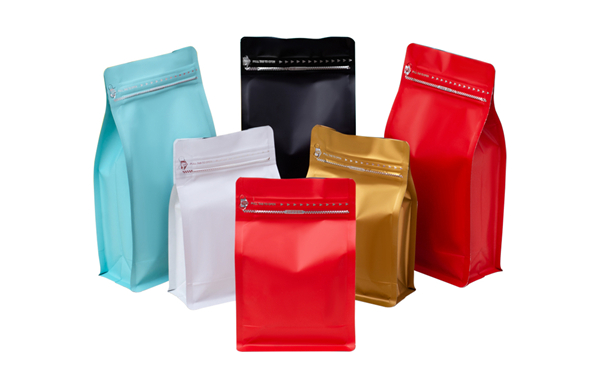 As the name implies, there are eight sealing edges, four sealing edges at the bottom and two sealing edges on each side. At present, many well-known e-commerce brands are using this bag type. Eight side seal bags are widely favored by consumers because of their three-dimensional effect, relatively high-grade appearance, high-end atmosphere and high class. Although its price is a little more expensive than ordinary bags, it has a wide range of applications, covering a wide range of foods. Such as dates, walnuts, pecans, macadamia nuts in dried fruits, milk powder, oatmeal, protein powder in nutritional products, beef jerky, and buns in casual foods. Eight-sided seal is also commonly used in tea packaging.
Features of eight side seal bags
1. Standing firm, conducive to shelf display and deeply attracting consumers' eyes.
2. A total of eight printed pages, there are enough places to describe the product in different languages for domestic product sales and global product sales promotion use. A more complete display of the product information.
3. The bottom of the bag can be considered an excellent display layout because the bottom of the bag is flush.
4. Eight-sided printing upright, conducive to the aesthetic display of the brand.
5. Flexible packaging composite process, the material changes a lot, according to the thickness of the material, moisture barrier oxygen barrier performance, metal effect and even printing effect, the gain is certainly greater than a single box ;
6. Eight-sided seal zipper bag with reusable zipper, consumers can re-open and close the zipper, which the box can not compete ;
7. Unique appearance, beware of counterfeiting, easy for consumers to identify, conducive to brand building.
8. Multi-color printing is available, with beautiful product appearance and strong promotional effect. Looking for eight side seal bag suppliers?