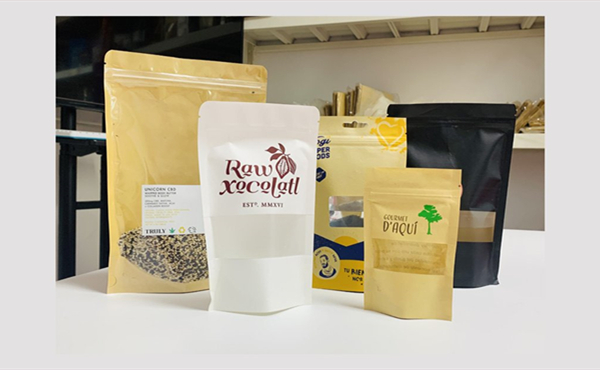 Stand-up pouches effectively protect aroma-sensitive goods.
Our stand-up pouches are a suitable packaging solution when it comes to safely storing sensitive items. These Doypacks have a resealable zipper lock, an oval bottom, and are sealed well with our sealer.
Stand-up pouch features and uses.
Our Doypacks are available in a wide variety of materials, which means you can always find the right bag for the right application. They range from kraft paper, polyethylene terephthalate (PET), aluminum and cast polypropylene (CPP) to PP with tapered corner gussets. Each bag is clear or opaque, with or without a window. Available sizes range from 100 ml (50 g) to 5000 ml (2000 g) to easily meet your needs. Our flavor protection bags are perfect for photosensitive products such as food, cosmetics and pet food. It doesn't matter if the consistency is solid, granular, powder or paste. Even coffee, tea, spices and dry goods fit safely into Doypacks. For excellent presentation, we offer packaging printing. You can choose between flexographic printing on kraft paper (up to 3 colors), PET (up to 12 colors) or laminate. As a result, you get not only safe, but also practical packaging that meets all your needs.
Stand-up pouches and their advantages
Every time you reseal a bag, you're using a sustainable product to protect your sensitive items from drying out. Doypacks are sealable and guarantee absolute flavor protection when closed. Some further stand-up pouch benefits are
Widely used for food preservation
Taste and odor neutral, thanks to high quality materials
Aesthetically pleasing design with rounded corners to prevent bending
Can be vacuumed to further preserve flavor
Tear opening for easy opening after vacuuming
According to our website, you can find protective vertical bags in various colors that are both decorative and personalized; www.kolysen.com. If you have any other questions, we can certainly help. Give us a call!