High-quality polyester film packaging bag: The sealing strip is easy to use and helps prevent water, moisture, dust, and odors from entering save energy and keep things tidy. Resealable bags for small businesses are made of durable and shiny high-quality metal coatings, with a transparent display on the front, reusable and safe to use.
Sealed waterproof bag with zipper lock: The polyester film bag only needs to be opened and sealed, which is very easy to use for food storage or packaging. After sealing, please rest assured that our duffel bag will protect your belongings! As long as it is sealed, no water or air will enter or leak. Equipped with a transparent front window, so you can clearly understand the contents of the bag.
Material and holographic rainbow color: deodorant bag is made of high-quality metalized film, which is durable and shiny.It provides you with a variety of colors for you to choose from. The transparent front is used to display the product, can be reused, and is safe to use.
Multifunctional: The small zipper bag can also be used for jewelry, resin art packaging, eyelash packaging, lip gloss packaging, small business packaging supplies, and also suitable for coffee, beans, candy, baking, biscuits, tea, nuts, dried fruits, flowers, Snacks, etc. are very suitable for electronic products, decorations, and pet food.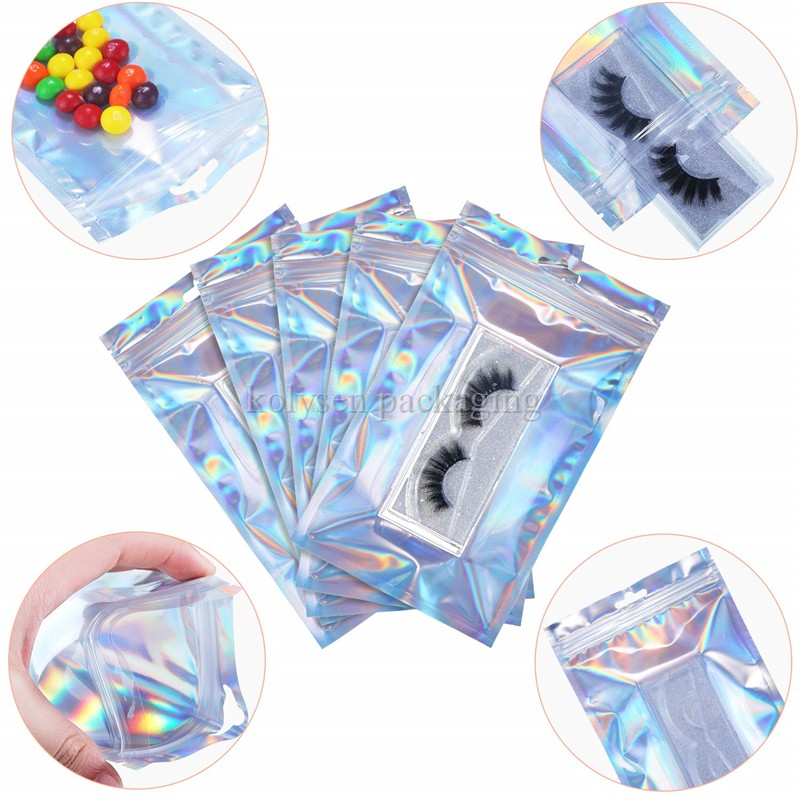 | | |
| --- | --- |
| Materials | Mono or multi-layer laminates using materials such as OPP / CPP / PET / PE / PP / NY / ALU / MetPET |
| Size & Thickness | Customizable, as per your requirements |
| Printing Method | Per requirement, silk printing, full color printing, or digital printing |
| Style Options | Flat Bottom, Stand Up, Side Gusset, Quad Seal, Middle Seal,Flat Pouch, etc |
| Option Available | Rounded Corners, Tear Notch, Hole Punches, Zipper, Window, Hang Hole, Valve, Tin Tie, etc. |
| Standard Finishing | Available in a matt, gloss, kraft, tactile, paper feel, de-metalized, unprinted and registered matt finish |
| Use | meats, fish, bean products, nuts, dried food, dried fruit, seeds, coffee, sugar, spice, bread, tea, herbal, wheat,cereals, tobacco, washing powder, salt, flours, pet food, candy, rice,confectionaries |