Stand Up Silver Aluminum Foil Zipper Pouch Bag
Thickness: double-sided thickness 22-26 wire
Printing: public or private
Specifications: 9*13+3, 11*16+3, 13*18+4, 14*19+4, 15*22+4, 17*24+4, 18*26+4, 18*31+5, 21*31+5 ,23*35+5 ,26*35+5 ,30*42+6 ,35*42+6, 35*50+6
Aluminum Foil Stand Up Zipper Pouches – Silver, with excellent quality and appearance on the shelves. Aluminum foil material can be a perfect barrier to light, air and liquid erosion. We can provide you with a full range of customized services according to your requirements, Improve the consumer's attention to your brand.
Aluminum foil pouches are extremely resilient, as they are very hard to tear, damage or poke holes in. This helps to protect the contents, whether it consists of dry products, such as spices, herbs or tea, or other products such as seeds, nuts, sweets or even body and bath preparations. Stand up pouches for food packaging benefit from aluminium foil's ability to seal in moisture, prevent contamination and maintain the product's freshness for longer.
Need a great choice of packaging pouches in a selection of sizes, colors and finishes? You are bound to find something that suits your needs in our selection of stand up pouches.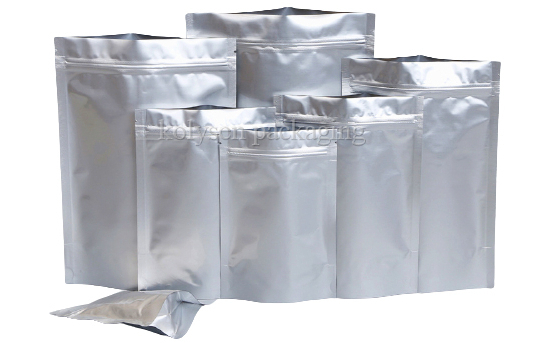 | | |
| --- | --- |
| Materials | Mono or multi-layer laminates using materials such as OPP / CPP / PET / PE / PP / NY / ALU / MetPET |
| Size & Thickness | Customizable, as per your requirements |
| Printing Method | Per requirement, gravure, digital, spout UV, hot stamping, stickers |
| Style Options | Flat Bottom, Stand Up, Side Gusset, Quad Seal, Middle Seal,Flat Pouch, etc |
| Option Available | Rounded Corners, Tear Notch, Hole Punches, Zipper, Window, Hang Hole, Valve, Tin Tie, etc. |
| Standard Finishing | Available in a matt, gloss, kraft, tactile, paper feel, de-metalized, unprinted and registered matt finish |
Why choose to stand up pouches?
bg
This form of packaging is versatile and practical as well as attractive. As the name itself suggests, these bags are able to stand up without any help, due to the special way they are constructed. They are equipped with gussets, located on the sidewalls, as well as on the bottom of the bag. This allows for an attractive display with higher visibility for your products, as well as easy and convenient use for the final customer.
In addition to a selection of colors and sizes in which we offer our stand up pouches wholesale to customers, the basic aluminum foil construction can also be supplemented by extra features such as Kraft paper outer layer, resealable zipper closure, spout, or valve.