Stand up Resealable Pouches for Raisins
1) The stand up pouch has Excellent moisture barrier, high oxygen and light barrier, good low temperature resistance.
2) Strong sealing strength; bonding strength and excellent compression strength.
3) Non-breakage,Non-leakage,Non-delamination, aroma-keeping, anti-puncture, acid-proof, etc.
4) Smart Appearance: Sharp and vivid printing effect. Top-grade shelf display; Convenient use with re-closable zipper.
5) Application: Tea, pet treats, candy, and other specialty foods.
6) What we offer is not just packaging material, but also packaging solutions to meet customer's different needs. Contact us for more details.
7) Please contact us for details and precise price !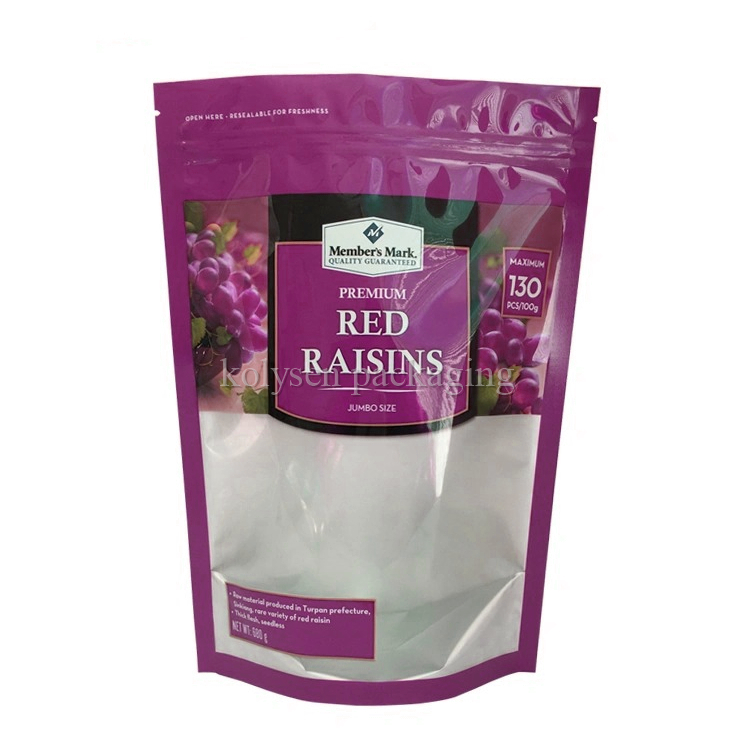 | | |
| --- | --- |
| Materials | Mono or multi-layer laminates using materials such as OPP / CPP / PET / PE / PP / NY / ALU / MetPET |
| Size & Thickness | Customizable, as per your requirements |
| Printing Method | Per requirement, gravure, digital, spout UV, hot stamping, stickers |
| Style Options | Flat Bottom, Stand Up, Side Gusset, Quad Seal, Middle Seal,Flat Pouch, etc |
| Option Available | Rounded Corners, Tear Notch, Hole Punches, Zipper, Window, Hang Hole, Valve, Tin Tie, etc. |
| Standard Finishing | Available in a matt, gloss, kraft, tactile, paper feel, de-metalized, unprinted and registered matt finish |
Working flows for pre-production
bg
1. Provide us with detailed information about the pouch you need, like application, size, artwork, structure, and thickness, etc.
2. We will quote accordingly after we get all the details about the pouch.
3. Once the price is confirmed by both parties, we will start the processing of the artwork.
4. Setting up the color standard.
5. Confirm drawings and sign contracts.
6. The buyer needs to prepay the cylinder (printing cost) and a 30% advance payment on the order.
7. We will start producing quality products for you after then.
How Stand Up Pouches compare to Plastic Containers
bg
● Standing plastic bags take up very little storage space, while plastic containers are rigid and take up a lot of space.
● They are light in weight and cheap to transport and handle, while plastic containers are heavier and therefore expensive.
● In addition, standing bags are made from approved bisphenol A (BPA) free material, while some plastic containers contain harmful toxins such as BPA.
● Although plastic containers have better heat resistance, standing bags are easily damaged by high temperatures.
● Stand up bags are made of plastic film, aluminum foil, and kraft paper while plastic containers are made of plastic polymers.
● Besides, stand up bags are recyclable and have almost no carbon emissions, while plastic containers completely release harmful carbon in the environment.
● Stand up bags are resistant to microbial attack because they don't have pockets in which bacteria can grow.The plastic containers on the other side are prone to cracks in the inner wall, making them vulnerable to attack by bacteria.
● Also, stand up bags are made of composite layers of different or single materials while plastic containers are made of single materials.
● Both standing bags and plastic containers can be fitted with different closing options.