Custom Service:

Customized printing available according to customer requirements.
Metallized PET twist film roll is made from claer PET twist Film ,via metallizing process,so the metallized PET twist film has good barrier and high gloss properties,as well as twistable The base PET Film is twist polyester film. Our PET film roll conforms latest EC directives,REACH specifications and US FDA regulations for food contact applications.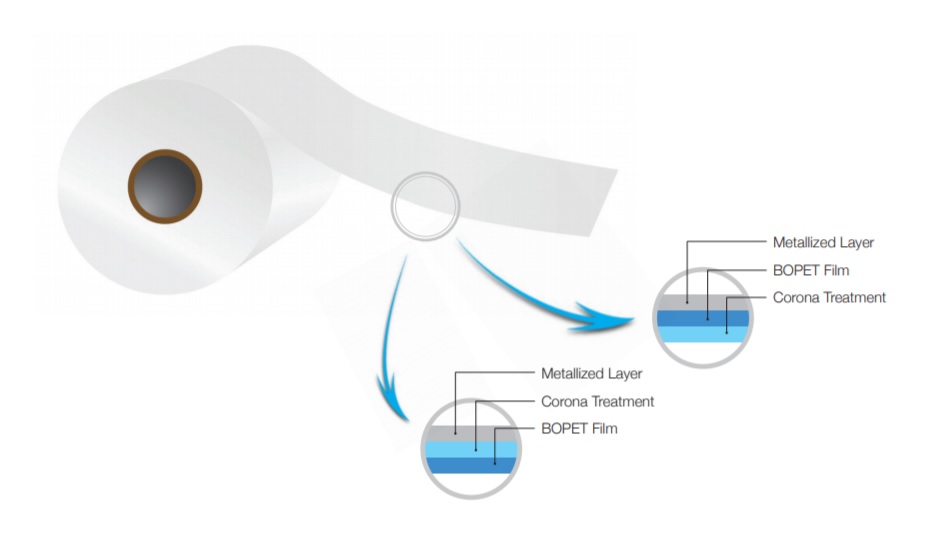 Metallized Twist Film
One side vacuum aluminum on corona treated side of BOPET film. It is suitable for Candy/Breef/Chocolate, as well as other industrial applications.
Features
1.Good barrier of WVTR and OTR.
2.With good film stiffness, show excellent property of cold and heat.
3.Environment-friendly than PVC twist film.
4.Small rebound angle which could be packed fast and convenient.
Packaging & Shipping




| | |
| --- | --- |
| MOQ | 300 Kilogram |
| Samples | We can supply free similar samples with freight collection |
| Sample Time | 1.Customized Sample 7-10 working days 2. Stocked sample can be sent immediately |
| Payment | 40% deposites by TT upfront, 60%balance before shipping |
| Payment Terms | T/T, Western Union, MoneyGram, Paypal, Escrow, Credit Card |
| Trade terms | FOB Xiamen,CIF,CFR,EXW etc. can be negotiable |
| Shipping Way | By sea, by air, by courier(DHL,FEDEX, TNT,UPS etc), as your require |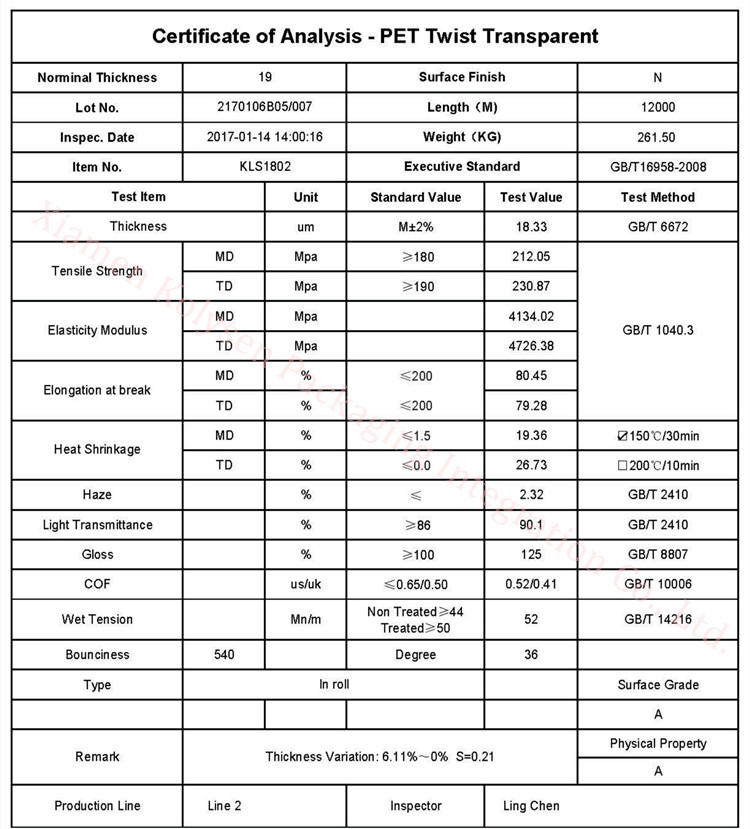 PET (polyethylene terephthalate) is a non-toxic, transparent and recyclable material, it mainly used in various beverages, mineral water and film packaging. It is currently one of the materials widely used in the world.
Compared with PVC twist film, PET twist film has the following advantages:
1、 As food packaging, PET twist film is in full compliance with national health standards and has been certified by the US FDA (Food and Drug Administration).
2、The twisting performance of PET twisted film is good, does not rebound, and can fully reach the twisting level of PVC twisted film.
3、PET twist film has high twisting strength and good stiffness. It can achieve a packaging speed of more than 1800 pieces per minute on an automatic candy packaging machine without film twisting, which can increase the productivity of candy packaging equipment by more than 30%. The best PVC twist film can only reach the level of 800 pieces per minute, and it is prone to film twist.
4、Due to the high twisting strength and stiffness of PET twist film, the thickness of the film can be 23μm, 19μm, and the material density is slightly lower than that of PVC twist film, which greatly improves the utilization rate of materials. The thickness of the PVC twist film must be more than 28μm to have a certain strength and stiffness to meet the requirements of aluminum plating, printing and twisting.
5、The production of PET twist film adopts a biaxial stretching production process, with stable batch-to-batch quality, uniform film thickness, and high mechanical strength, which can meet high-speed printing and aluminizing processing, improving the productivity of printing and aluminizing, and the qualified rate of finished products can reach more than 99%. The PVC twist film mainly adopts calendering and casting production methods, the film thickness uniformity is poor, the mechanical strength is low, it is easy to cause wrinkles and film breakage during the printing and aluminizing process, which affects the quality of film printing and aluminizing.