Flat bottom bags are an innovative alternative to folding cartons or corrugated boxes.Unlike the bulky boxes that have no effective internal layers, flexible bags are occupied by small space and keep products fresh longer- Flexible bags make it easy for you and your customers to store, transport, access and consume your quality products.
Our customers use flat bottom bag to package anything that would traditionally go in a box with an inner bag, such as cereal, granola, crackers, and snacks.The flat bottom mimics a box and allows the bag to stand up effectively, while side gussets provide more space for labels and branding than traditional stand up bags.
In addition, the flexible box bags are made of heavy duty barrier film that protects the bag's contents from moisture, odors, punctures, and other hazards and contaminants.That means your product stays fresher, longer, even after the packaging has been opened
Best of all, our flat bottom bags use up to 15% of the film than typical stand up bags, but hold much more volume.Each bag comes with five printable surfaces, perfect for branding, can be printed in up to 10 colours and has a clear, metallized and foil construction.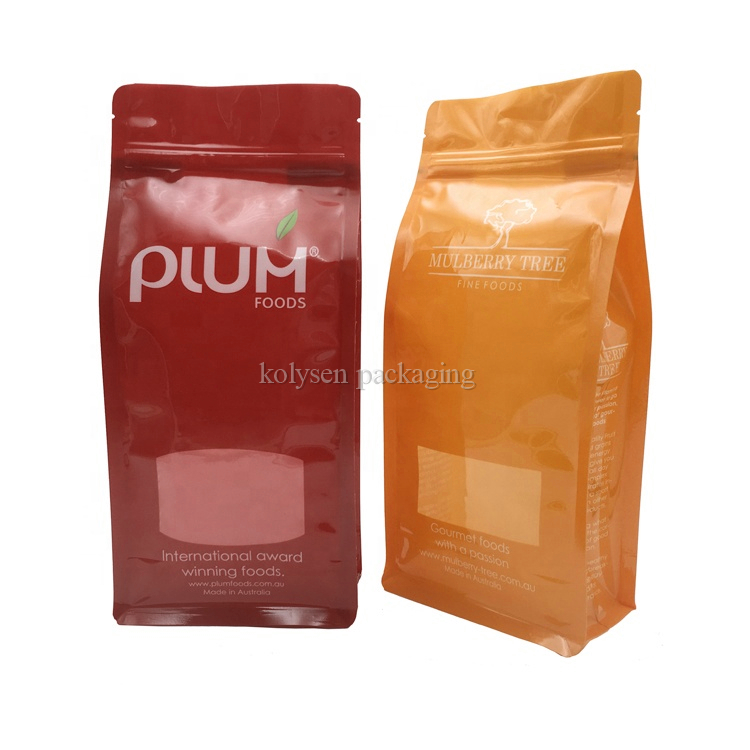 | | |
| --- | --- |
| Materials | Mono or multi-layer laminates using materials such as OPP / CPP / PET / PE / PP / NY / ALU / MetPET |
| Size & Thickness | Customizable, as per your requirements |
| Printing Method | Per requirement, gravure, digital, spout UV, hot stamping, stickers |
| Style Options | Flat Bottom, Stand Up, Side Gusset, Quad Seal, Middle Seal,Flat Pouch, etc |
| Option Available | Rounded Corners, Tear Notch, Hole Punches, Zipper, Window, Hang Hole, Valve, Tin Tie, etc. |
| Standard Finishing | Available in a matt, gloss, kraft, tactile, paper feel, de-metalized, unprinted and registered matt finish |
Save time quickly get customized products prices, just provide the information below:
Save time quickly get customized products prices, just provide the information below:
bg
1. Bag type.
2. Material structure and thickness.
3. Application of the packaging.
4. Bag size(Width & Length & Gusset).
5. The printing area and color.
6. If possible, pls provide the picture or artwork of the packaging.