Clear Window Nuts Bags | Stand Up Pouch
Are you looking for the original packaging of nuts? Kolysen has a variety of nut pouches. You can find the most suitable packaging for snacks such as almonds, cranberries, flaxseeds, sunflower seeds, pumpkin seeds, pistachios, pecans, quinoa, kiwi, cashews, peanuts and walnuts.
Nut satchels are usually available in two options. Vertical satchels and flat satchels are high value, high volume, premium branded packages that usually contain mixed or high-grade processed mature nut products; The cheaper, smaller organic nut products are automatically packed with aerated coils and films and are generally sold in bulk.
Vertical and flat pouches are usually of high quality and require a long shelf life, which means strict control over everything from printing to material selection. The material should be at least 2-3 layers, with metalized material or aluminum foil inside, and some people will choose brown paper.
Nut pouches often have a window so that the end consumer can see the product inside, making people feel more confident about what they are buying and trust the brand itself.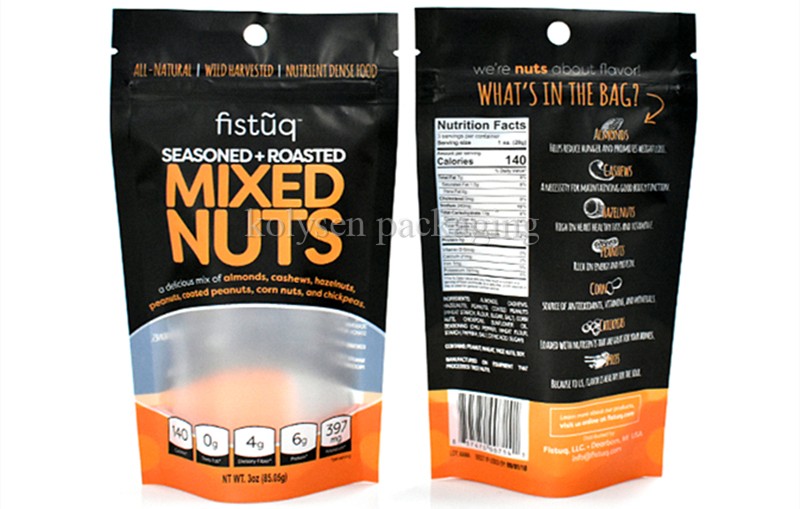 | | |
| --- | --- |
| Materials | Mono or multi-layer laminates using materials such as OPP / CPP / PET / PE / PP / NY / ALU / MetPET |
| Size & Thickness | Customizable, as per your requirements |
| Printing Method | Per requirement, gravure, digital, spout UV, hot stamping, stickers |
| Style Options | Flat Bottom, Stand Up, Side Gusset, Quad Seal, Middle Seal,Flat Pouch, etc |
| Option Available | Rounded Corners, Tear Notch, Hole Punches, Zipper, Window, Hang Hole, Valve, Tin Tie, etc. |
| Standard Finishing | Available in a matt, gloss, kraft, tactile, paper feel, de-metalized, unprinted and registered matt finish |
Working flows for pre-production
bg
1. Provide us with detailed information about the pouch you need, like application, size, artwork, structure, and thickness, etc.
2. We will quote accordingly after we get all the details about the pouch.
3. Once the price is confirmed by both parties, we will start the processing of the artwork.
4. Setting up the color standard.
5. Confirm drawings and sign contracts.
6. The buyer needs to prepay the cylinder (printing cost) and a 30% advance payment on the order.
7. We will start producing quality products for you after then.
Can Stand-Up Nut Bags Cook More Sales for You
bg
If you have a plan to package Turkish pistachios, cashew nuts, or Spanish almonds or any other nut type; Flexible pouches can help increase nut sells.
We manufacture different types of bags such as Mylar bags; Custom printed nut bags; stand up pouches, Kraft stand up nut bags, clear nut bags, and many others.
All these bags types can help punch up your pouch sales in the following ways.
● For any nut bags we manufacture, whether intended for roasted or fresh nut packaging, multiple film layers get laminated together.
The lamination thus creates sturdy, stable, reliable, puncture resistant, and waterproof bags that can protect your pouches for extended shelf span.
● Because most people enjoy nuts on the go, you need to provide them with nuts packaged in bags that favor their go nature.
With pouches fitted with tear notches, your customer will be able to enjoy mess-free and easy pouch tearing.
Secondly, a reclosable zip seal offers an opportunity to avoid nuts contamination or pouring after the initial opening.
Such are some of the things that will entice your customers thus increasing the sales of your products.
● With perfect labels and graphics customization, you are rest assured your products will be more visible. we can offer graphic designing and label printing with up to 12 color.
● Finally, if you use eco-friendly pouches, customers will even love your product more. This is because many will feel you are with them in the fight against environmental pollution.
1. What are nuts stand up pouch?
These are flexible stand-up pouches that can stand on their own. Although they are made of durable elastic material for durability reason, they are adjustable to avoid wrinkles.
2. Are your nut bags BPA free?
Yes. All out pouches are food safety and approved by FDA.
3. Do your nut bag samples?
Yes. We do advise you to do that. This is the best way you will get a first-hand experience of the pouches we manufacture and decide whether they fit your purpose best.
4. How do I place my nut bags order?
a. Online: You can ask us any question concerning your order through our website.
b. Email:Send us your order details at info@kolysen.com, and we will reply within 24 hours.
c. Phone:Place your order by calling us through 0086-13950055965
d. Physical Visit:You can visit us, we are located at, Fanghu Industrial Estate, Huli Area, Xiamen, Fujian, China.
5. Do you offer a volume discount?
Yes. Although, our volume discounts vary depending on the volume, nut bags style, shape, and customization level.
6. How many colors does your custom printing incorporate?
We print custom bags with up to 10 colors
7. How does matte addition affect my colors?
Once matte lacquer is added to your pouches, they will become less bright or in other words denser. But not, matter addition effect does vary on different color
8. What is your company's lead-time on custom printed pouches?
Our best timing is 3-4 weeks.