Blue Foil Candy Wrappers
FOOD GRADE MATERIAL: Square Candy Wrappers are made of food-grade safe aluminum foil paper, Non-toxic and odorless, eco-friendly
BRILLIANT COLORS: Red, purple, green, blue, silver, golden, rose red, pink, and coffee.
SIZE: 4 x 4 inches(10x10 cm).Also available in sizes - 3 X 3 and 6 X 6
WIDE USAGE: Great for wrapping homemade candies, chocolate truffles, rum balls, or party favors. Also can be used for decor accessories at a party, wedding, festival, candy-making activity, birthdays, etc.
NOTE: The aluminum foil paper is not to be placed in high heat. Do not swallow.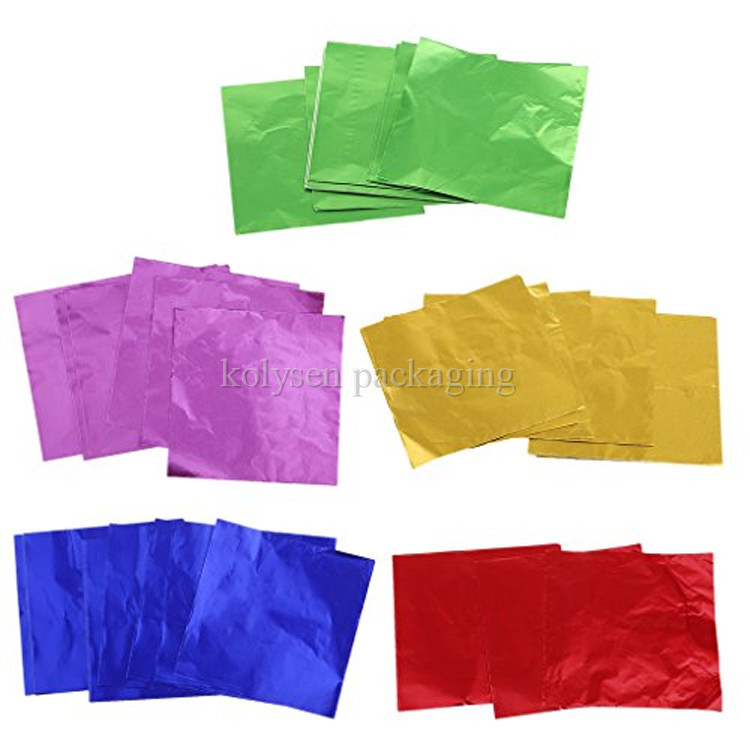 Ten facts you may not believe about chocolate:
bg
1. The Aztecs and Mayans knew about chocolate thousands of years ago.They used it as a drink, as a currency for the fighters.
2. In Spanish,"Cacao" means "Cocoa" ,they have the same meaning.
3. It takes about 800 cocoa beans to make one kilogram of chocolate.
4. Chocolate contains more than 600 flavor compounds.
5. In 1930, a lady accidentally discover a chocolate chip cookie and sold the idea to Nestle for a lifetime supply of chocolate.
6. In 1971, the British Willy Wonka Company made a movie a river of chocolate.
7. Brussels Airport in Belgium is the world's biggest seller of chocolate, selling 800 tons per year.
8. Most of the world's chocolate is imported from African countries, such as Ivory Coast, but people there think it's too expensive to buy.
9. Cacao trees can live up to 200 years, but farmers takes about five years for the first beans.
10. More than 35 million boxes of heart-shaped chocolate are sold worldwide each year on Valentine's Day.