Almond Nuts Packaging Bag | Stand Up Pouch
Are you looking for the original packaging of nuts? Kolysen has a variety of nut pouches. You can find the most suitable packaging for snacks such as almonds, cranberries, flaxseeds, sunflower seeds, pumpkin seeds, pistachios, pecans, quinoa, kiwi, cashews, peanuts and walnuts.
Nut satchels are usually available in two options. Vertical satchels and flat satchels are high value, high volume, premium branded packages that usually contain mixed or high-grade processed mature nut products; The cheaper, smaller organic nut products are automatically packed with aerated coils and films and are generally sold in bulk.
Vertical and flat pouches are usually of high quality and require a long shelf life, which means strict control over everything from printing to material selection. The material should be at least 2-3 layers, with metalized material or aluminum foil inside, and some people will choose brown paper.
Nut pouches often have a window so that the end consumer can see the product inside, making people feel more confident about what they are buying and trust the brand itself.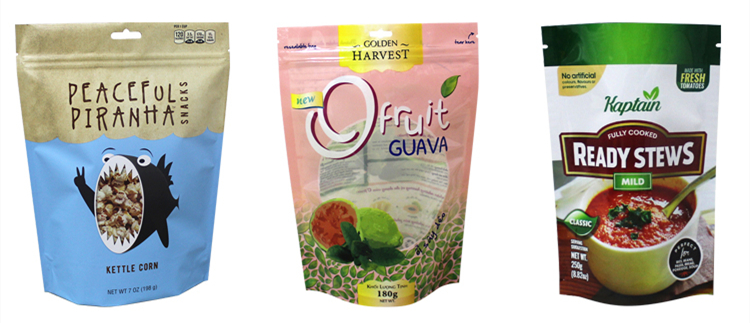 | | |
| --- | --- |
| Materials | Mono or multi-layer laminates using materials such as OPP / CPP / PET / PE / PP / NY / ALU / MetPET |
| Size & Thickness | Customizable, as per your requirements |
| Printing Method | Per requirement, gravure, digital, spout UV, hot stamping, stickers |
| Style Options | Flat Bottom, Stand Up, Side Gusset, Quad Seal, Middle Seal,Flat Pouch, etc |
| Option Available | Rounded Corners, Tear Notch, Hole Punches, Zipper, Window, Hang Hole, Valve, Tin Tie, etc. |
| Standard Finishing | Available in a matt, gloss, kraft, tactile, paper feel, de-metalized, unprinted and registered matt finish |
Working flows for pre-production
bg
1. Provide us with detailed information about the pouch you need, like application, size, artwork, structure, and thickness, etc.
2. We will quote accordingly after we get all the details about the pouch.
3. Once the price is confirmed by both parties, we will start the processing of the artwork.
4. Setting up the color standard.
5. Confirm drawings and sign contracts.
6. The buyer needs to prepay the cylinder (printing cost) and a 30% advance payment on the order.
7. We will start producing quality products for you after then.
Can the shells on a nut go into a nuts pouch?
bg
These shells fit well into nut pouches.
The entity of the nut pouch should be large enough to handle the contents.
There are many reasons why some people like nuts in the shell:
● Shells prevent people from eating too many nuts at once
● The flavor inside the shell can be preserved very well
● Nuts are less likely to be affected by other external factors
What types of nuts can be added to a nut pouch?
bg
You can add various types of nuts into a nuts bag, including:
● Peanuts; these include shelled, roasted, and salted peanuts
● Sunflower seeds; these can come with their shells or with added flavors
● Pistachios with or without their shells
● Almonds
● Chia seeds
● Sesame seeds
● Flax seeds
● Walnuts with or without shells
● Cashews
● Mixed nuts; these are nuts where fewer than 50 percent of the content features peanuts
How long can the nuts in the nut pouch be eaten?
bg
Nuts can keep for a while, depending on what nuts you have and how you store them:
● Most nuts will keep in the pantry for six to 12 months.
● Nuts will keep for up to a year in the fridge.
● You can also freeze nuts for a year or two.
Walnuts, pecans and pistachios don't have a long shelf life; They can stay in the pantry for three to six months.
● Pine nuts rot faster; They can be kept in the pantry for a month or in the fridge for three months.
Because of the packaging, nuts in the shell expire faster.